Why PEI?
At PEI, our mission is to provide our clients with superior customer service along with professional, flexible, and customized staffing solutions.
We meet the employment and training needs of our applicants and employees; while providing a high-quality and productive environment for our associates.
PEI Staffing collaborates as one to find the right candidate. This approach allows room for someone to always be available to address issues that may arrive…whether it is 6am or 10pm.
| The PEI Difference | Benefit to client |
| --- | --- |
| Family Owned Business | We can respond more quickly to your requests, as we don't have multiple layers of approval. We know the Mid-Atlantic, which give us a greater understanding of the local labor market and allows us to provide you with top candidates and strategic talent advice. Our staffing model affords us the flexibility to service clients in new markets within days; not weeks or months. |
| Small / Agile | Because we are a small company, we are more agile then our competitors. That provides you the client with faster response times, customized solutions, and greater attention. |
| Direct Hire Approach to Temporary Staffing | Most companies that specialize in temporary staffing do so from a day labor approach , focusing on volume rather than quality. PEI started over 20 years ago as a professional placement firm and continues to apply that philosophy to our staffing model. This results in a higher caliber employee and top-notch service for our clients. |
| Niche Markets | Rather than deal with a company that provides a wide range of staffing skill- sets, when you work with PEI staffing you have a partner that is an expert in your field. We know how your business runs, what is important to you and your clients, and what you need from a staffing standpoint to be successful. |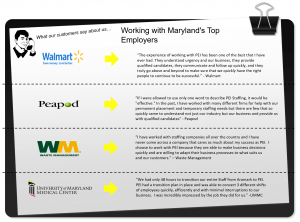 PEI Staffing is a leader in contingent workforce solutions and continues to evolve as the staffing industry changes. Our ability to see trends, develop strategies and stay ahead of the curve has kept us at the forefront of this ever changing industry. As more and more global users of staffing services shift from traditional methods to MSP/VMS models, PEI has leveraged these opportunities with a scalable solution to service the needs of these clients. PEI has a dedicated MSP "Field-Team" that handles all client on-site management roles through a single point of contact on-location. A centralized recruitment and support team in our corporate headquarters handles talent acquisition, credentialing and compliance duties and risk management responsibilities. With this strategic recruitment and service / support structure PEI is able to service our clients across the nation, recruit across multiple verticals and deliver the level of service and attention each end user deserves. If you would like to learn more about how PEI is an ideal supplier partner or would like to review a client case study please reach out and we would be glad to discuss these solutions.